13 Oct

Pennyfarthing Homes provides cash boost to New Forest Basics Bank
Local housebuilder Pennyfarthing Homes has continued its support of the New Forest Basics Bank. Funds raised from the sale of former show home furniture have been pledged to support the charity's work providing vital support to vulnerable families and individuals in the southern part of the New Forest.
The volunteer-led New Forest Basics Bank was established in 2004 and supports 180 to 200 families a week in Lymington, Pennington, East Boldre, Boldre, Brockenhurst, Sway, Burley, Milford-on-Sea, Everton, Bransgore, New Milton, and Barton-on-Sea. It provides three different services: food parcels, a food rescue kitchen, and community larders.
Pennyfarthing Homes has supported New Forest Basics Bank since the beginning of the pandemic in early 2020 by providing a vehicle and driver for food deliveries, employee volunteering, handyman support and monetary donations from the sale of show home furniture, which following a recent sale now total £3,200.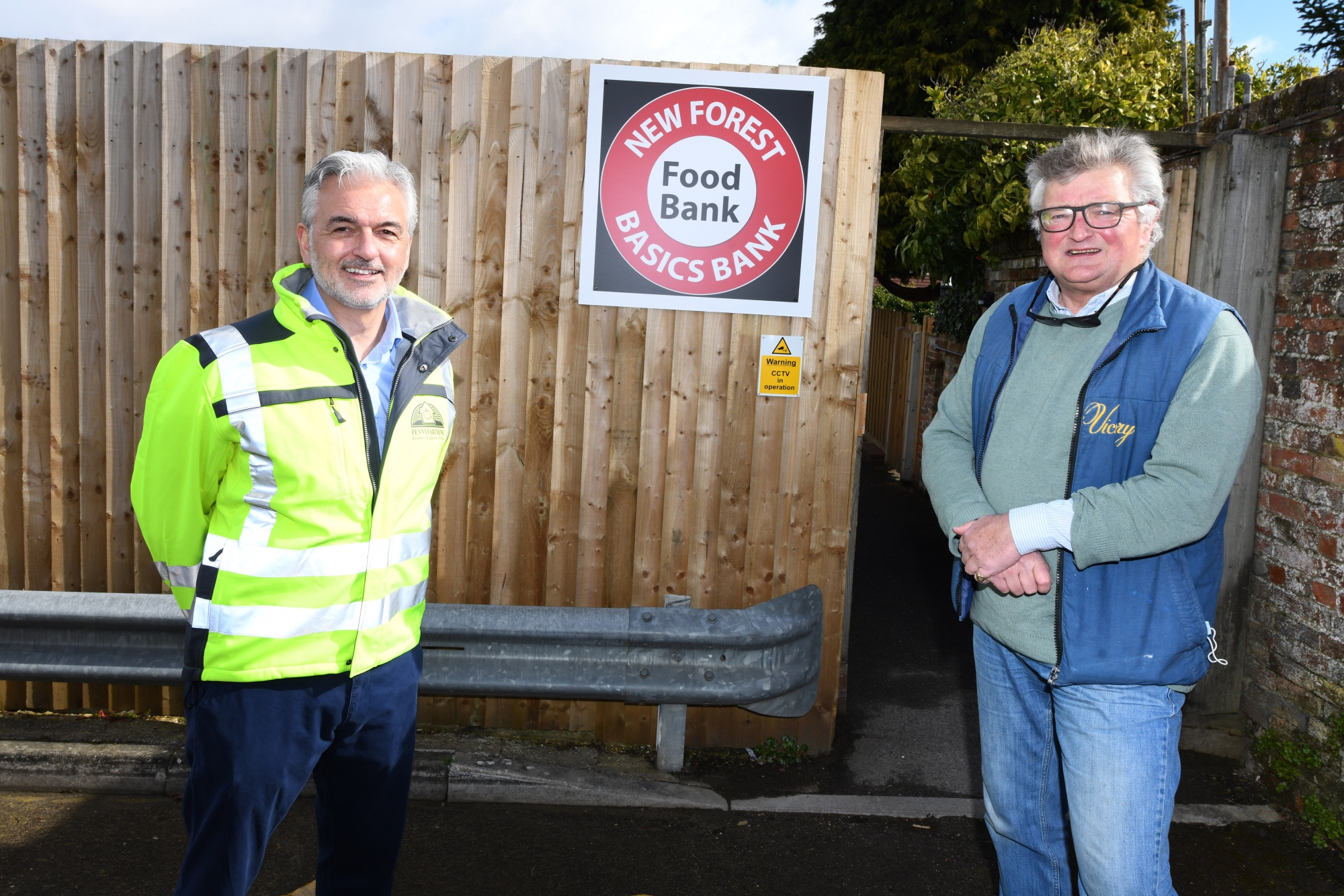 Oliver Stanley, Chairman of New Forest Basics Bank, said: "Pennyfarthing Homes has been one of our most consistent and generous donors since the early days of the pandemic.
"Their support has enabled us to meet the increased demand we've experienced in the past 18 months, enabling us to grow and expand our services to support as many vulnerable people as we can, and the team and I are most grateful for their continued support."
The food parcel arm of the bank supports people who have been referred by local authorities, charities, and other third parties. It provides enough food for a family or individual to have 21 meals a week. The parcels always contain a good mixture of produce to enable a well-rounded healthy diet including fresh and frozen food along with tinned goods. Hygiene products are also provided.
The food bank also runs a food rescue kitchen where volunteers collect surplus products that would be reduced on the day from local supermarkets for people in need to visit the food bank for collect what they need. The team also works in conjunction with FareShare to support community larders in Ashley, Pennington, and Bransgore.
Lynn Peck, Operations Manager at New Forest Basics Bank, said: "As we've expanded our services to provide more support across a wider area, we've needed more support from the local community. Our volunteer base has grown to 125, with another 20 recently recruited, but we're always on the lookout for more volunteers!
"Along with more volunteers we are also grateful for any donations the local community can make to enable us to continue to provide our services and enable our users to enjoy a varied and healthy diet. We always have plenty of tinned soup, pasta and beans but we would welcome donations of what we call the tinned main course, for example, chicken in white sauce, chilli con carne and meatballs. These are not regularly donated as people often don't buy them for themselves and they are expensive."
Pennyfarthing Homes' Managing Director, Matt Dukes said: "We have seen first-hand the increase in demand on the food bank and how the team have adapted and responded to ensure that everyone who needs their support has received it. Oliver, Lynn, and the team have done an incredible job in not only enabling families and individuals to put food on the table but for them to enjoy a varied diet including fresh fruits, vegetables and those little extra treats of sweets and chocolate.
"We're pleased to have been able to support the team in a number of ways over the past 18 months and look forward to further supporting them through fundraising activities and volunteer support in the future."
For more information about Pennyfarthing Homes, visit www.pennyfarthinghomes.co.uk. To find out more about New Forest Basics Bank, visit basicsbank.org.uk.